New Home Construction in Grand Junction
What is the difference between a duplex and a townhome? We are offering both duplex and townhome options here at Copper Creek as part of our Rimrock Landing project in Grand Junction. We are completely sold out of townhomes in this project, but there will be more coming soon. We do still have four duplexes available. Townhomes have multiple units side by side, so if you have a middle unit in a townhome then you share a wall with two neighbors. In a duplex, you only share a wall with one neighbor because there are only two units per duplex. These units have reinforced walls to mitigate sound transference between your and your neighbor's units.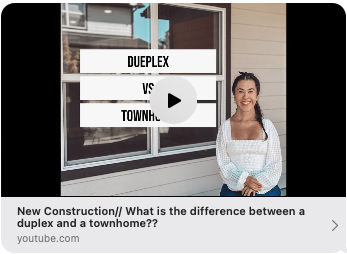 If you are interested in owning a unit in one of our duplexes feel free to visit our website and schedule a meeting with Naomi. This will give you a chance to come to walk through the units in person. If you have any questions please give us a call at 970-985-8247.

About Copper Creek Builders:
Copper Creek Builders, LLC is a land development and construction company, owned and operated by Grand Junction locals Chris and Silas Colman, a father-son team who have been in business together since 2002. They begin each project with raw land in order to design a perfect fit between the homes, streets, and community features. For more information on our current projects please visit our website www.coppercreeklife.com. You can also schedule a visit with Naomi for more details.