New Home Construction in Grand Junction
We have put the finishing touches on our townhome project here at Copper Creek. Typically, with townhomes, you are in a pretty tight and constricted area. To offset this, we put in a pocket park behind the townhomes for the whole community to use. This area cannot be seen from the road and with construction still going on we haven't been able to walk people back here, so we wanted to give you a look at the community space.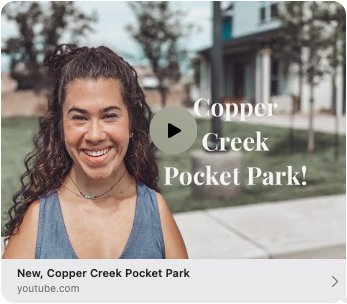 This is a grassy area behind the townhomes that would be great for playing with your kids, family, friends, and pets. If you have questions or would like to buy your own townhome please feel free to visit the website and set up a meeting with Naomi or give us a call at 970-985-8247.
About Copper Creek:
Copper Creek Builders, LLC is a land development and construction company, owned and operated by Grand Junction locals Chris and Silas Colman, a father-son team who have been in business together since 2002. They begin each project with raw land in order to design a perfect fit between the homes, streets and community features. For more information on our current projects please visit our website www.coppercreeklife.com. You can also schedule a visit with Naomi for more details.