Apartment Pricing:
One Bedroom Bookcliff 1st/2nd floor: $1,540 per month
One Bedroom Bookcliff 3rd floor: $1,575 per month
One Bedroom Monument 1st/2nd floor: $1,560 per month
One Bedroom Monument 3rd floor: $1,595 per month
One Bedroom Kokopelli 1st/2nd floor: $1,560 per month
One Bedroom Kokopelli 3rd floor: $1,595 per month
Two Bedroom One Bathroom Slick Rock 1st/2nd floor: $1,695 per month
Two Bedroom One Bathroom Slick Rock 3rd floor: $1,745 per month
Two Bedroom Mesa 1st/2nd floor: $1,775 per month
Two Bedroom Mesa 3rd floor: $1,830 per month
Townhome Rental Pricing:
This spacious two-bedroom townhome offers two and a half bathrooms, a convenient office space, an oversized one-car garage, and an impressive 1509 SqFt of living space..
Rent for this townhome is $2,400 per month and includes water, sewer, and trash. However, please note that gas, electric, and WIFI are not included. The townhome is move-in ready as soon as possible.
To begin the application process for this home, kindly complete the form provided above.
Floor plans available for a November move in: Kokopelli and Slick Rock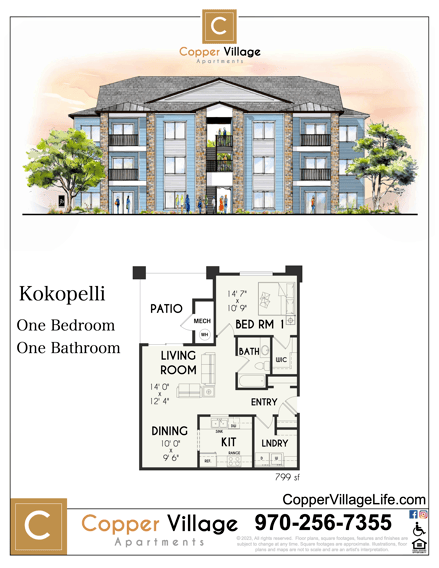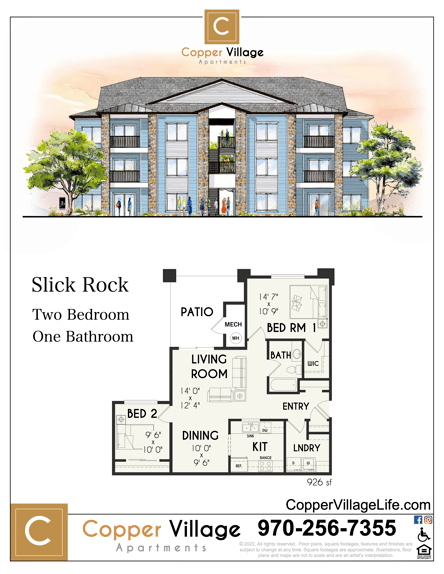 Apartment Rent Includes:
Water, sewer, trash service, uncovered parking, fiber internet (in 24-plex buildings), and clubhouse access including co-working space, meeting rooms, and gym.
Garage Pricing:
Plus Bonus!!! If you're wanting a detached garage, we have them and they will be renting for $150 per month to add to your chosen apartment plan. But hurry! Those will go fast! Please specify if you want to lease one of these when you contact Kristen.

Storage Pricing:
We also have available storage units from $20-$72 per month depending on size. Please specify if you want to lease one of these when you contact Kristen.
---

Applicant Information/Process - Please read the below information before starting the application process.
We only accept 100% complete applications. Please be sure to follow the instructions below.
A hard Credit Report, Background Report, and Rental Report will be obtained for each person over age 18 and guarantor ( if applicable) applying for occupancy.
What you will need to apply:
Each adult (18 and over including guarantors) must:
COMPLETELY fill out the application. We only respond to 100% complete applications, all non-complete applications will be disregarded. Under, "Are you interested in a particular property" on the application please say Copper Village.
Have available your two (2) most recent months of pay stubs ( or proof of income) and bank statements (or tax returns and bank statements if self-employed). This is required for all guarantors as well.

If you are moving to Grand Junction and will be employed by an employer other than that on your paystubs, please upload your offer letter from your new employer.
If you are Approved:
Upload a current valid state or USA Federal issued ID.

Once you have been approved, please be prepared to sign the lease or rental agreement, pay all deposits required, and the FULL 1st and last month's rent within 24 hours.

Once the lease or rental agreement is executed by both parties, any and all advance deposits will be applied to non-refundable fees. You are encouraged to review the rental agreement at the time of application.
DISABLED ACCESSIBILITY
Copper Village Properties allow existing premises to be modified at the full expense of a tenant if the tenant agrees to restore the premises to the pre-modified condition. Copper Village requires:
Written approval from the landlord before any modifications are made.

Written assurances that the work will be performed in a professional manner.

Written proposals detailing the extent of the work to be done.

Documents identifying the names and qualifications of the contractors to be used.

All appropriate building permits and required licenses are made available for landlord inspection.

Please note that the building does NOT have elevators to access the 2nd and 3rd floors.
GENERAL REQUIREMENTS
Applicants must be able to enter a legal and binding contract.

Applicants must provide positive photo identification.

Each applicant (18 and over) must submit a complete and accurate application listing the current, and at least one previous, rental reference with phone numbers. (Incomplete applications will not be considered).

Any individual who may constitute a direct threat to the health and safety of an individual, the complex, or the property of others, will be denied.

5. Applicants must have a minimum credit score of 550 to be considered for approval with or without conditions.
INCOME REQUIREMENTS:
Monthly net income should equal 2 times the stated monthly rent. If monthly net income does not equal 2 times the stated monthly rent, an additional security deposit, a fully qualified roommate, or a guarantor may be required.

If we are unable to fully verify income, the application will be denied. Verifiable income will be required for unemployed applicants. (Verifiable income may mean, but is not limited to: Bank Accounts, Alimony/Child Support, Trust accounts, Social Security, Unemployment, Welfare, Grants/Loans, etc.). Self-employed applicants will be required to show proof of income through copies of at least the two previous year's tax returns both personal and business.
EMPLOYMENT REQUIREMENTS
A minimum of one year of continuous verifiable employment is preferred.

A self-employed applicant's company(ies) will be verified through the state. A recorded business name or current corporate filing will be sufficient. You will also need to also provide at least your two most recent years' tax returns and three months' worth of your most recent bank statements.
Household Pets
Animal and Animal Owner Code of Conduct for Copper Village Apartments
Management permits cats and dogs** only as "household pets".

Maximum of onw (1) household pets per apartment.

No other household pets or aquariums are allowed, (i.e., rabbits, mice, rats, birds, reptiles, aquatic animals, insects, etc.).

We permit other animals(Service and ESA) through a valid reasonable accommodation request in accordance with the law.

All animals requiring vaccination and registration through State and County law must show proof of vaccination and registration.

Breeding and pet sitting are not allowed in the community.
Pet fees
A $300 refundable pet deposit. When you move out and there is no damage done to the apartment by the pet you will receive this amount in full

A $35 per month pet fee

.
Terms and conditions
There is NO SMOKING OF ANY KIND (including, but not limited to vaping, tobacco products, and marijuana) in/on our properties, and Applicant and Guarantor (if applicable) agree to sign a Zero Tolerance Smoking/Marijuana Agreement if the application is approved.
*No tenant animal or visiting animal is allowed at any time in/on the premises without prior written Management consent and full payment of fees and deposits. Violations will result in fines to the tenant up to and including eviction.
If approved, a reservation fee not to exceed one month's rent will be required to hold the room until move-in and the applicant further agrees that if the applicant is accepted by Management and then decides, for any reason, not to move into the premises, then all monies paid herewith shall be retained as liquidated damages since other prospective tenants may have been turned away and it may be necessary for Management to re-advertise the property and evaluate other applicants. Processing of the application shall be as timely as possible, and the results may be delivered via telephone, mail, or email. You can assist by completing tasks requested in emails as quickly and accurately as possible.

Once approved, the applicant agrees to pay the reservation fee and complete the paperwork within 24 hours of receipt, otherwise, management will assume that the applicant has decided to forfeit the reservation/and reservation fee made herewith and will begin re-marketing the property. If the applicant is not approved, all monies given herewith, less the application fee shown above, shall be returned to the applicant.

The applicant declares they have reviewed, understands, and agrees to our full Animal Policy during the entire lease period, regardless of whether or not the applicant is applying with or without an animal(s).
Start the application process
Email Kristen@brayandco.com or by phone at 970-242-8450
Email Subject line: "Start Leasing at Copper Village"